HEART OF STEEL
BOOK , LYRICS AND MUSIC BY WESLEY J. COLFORD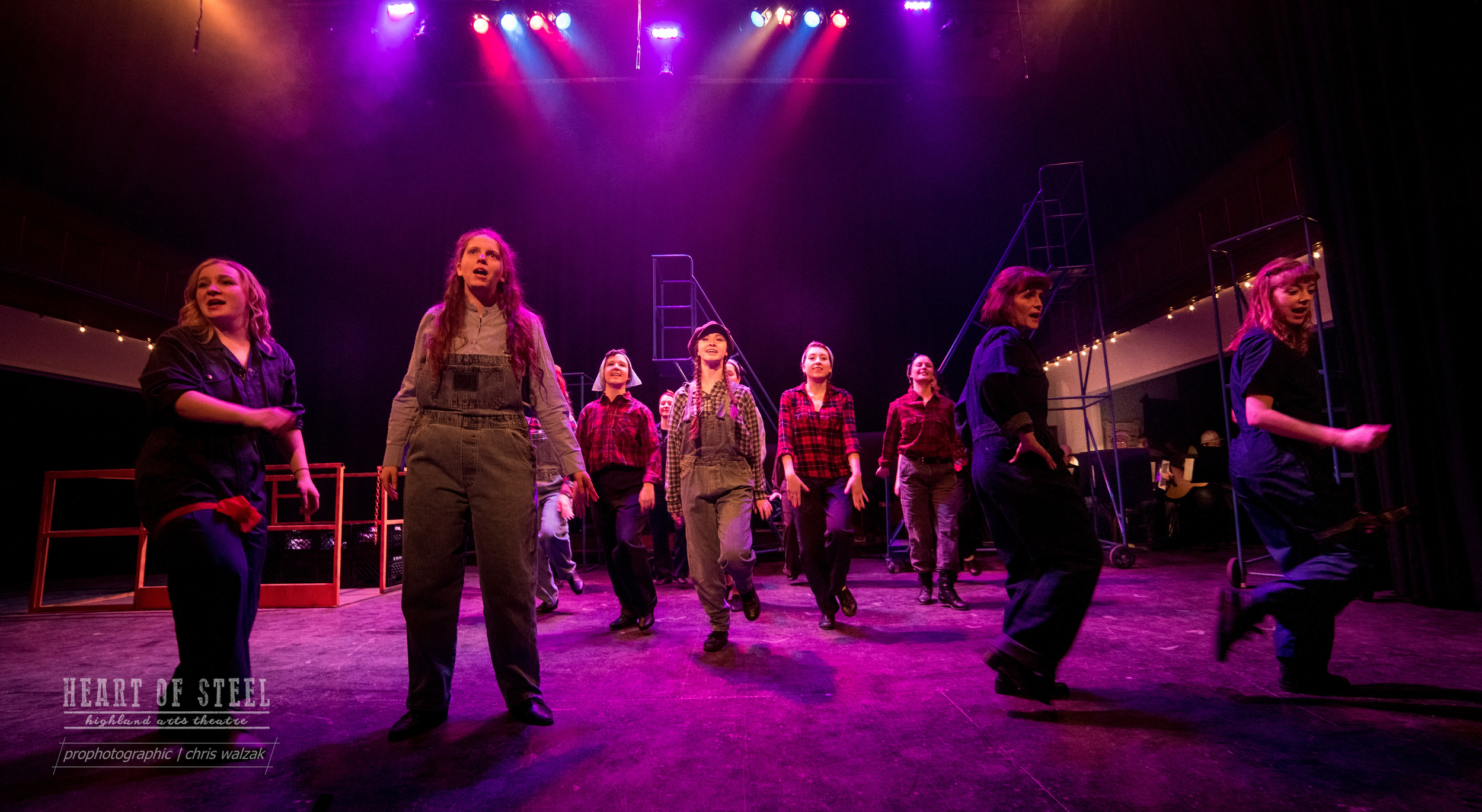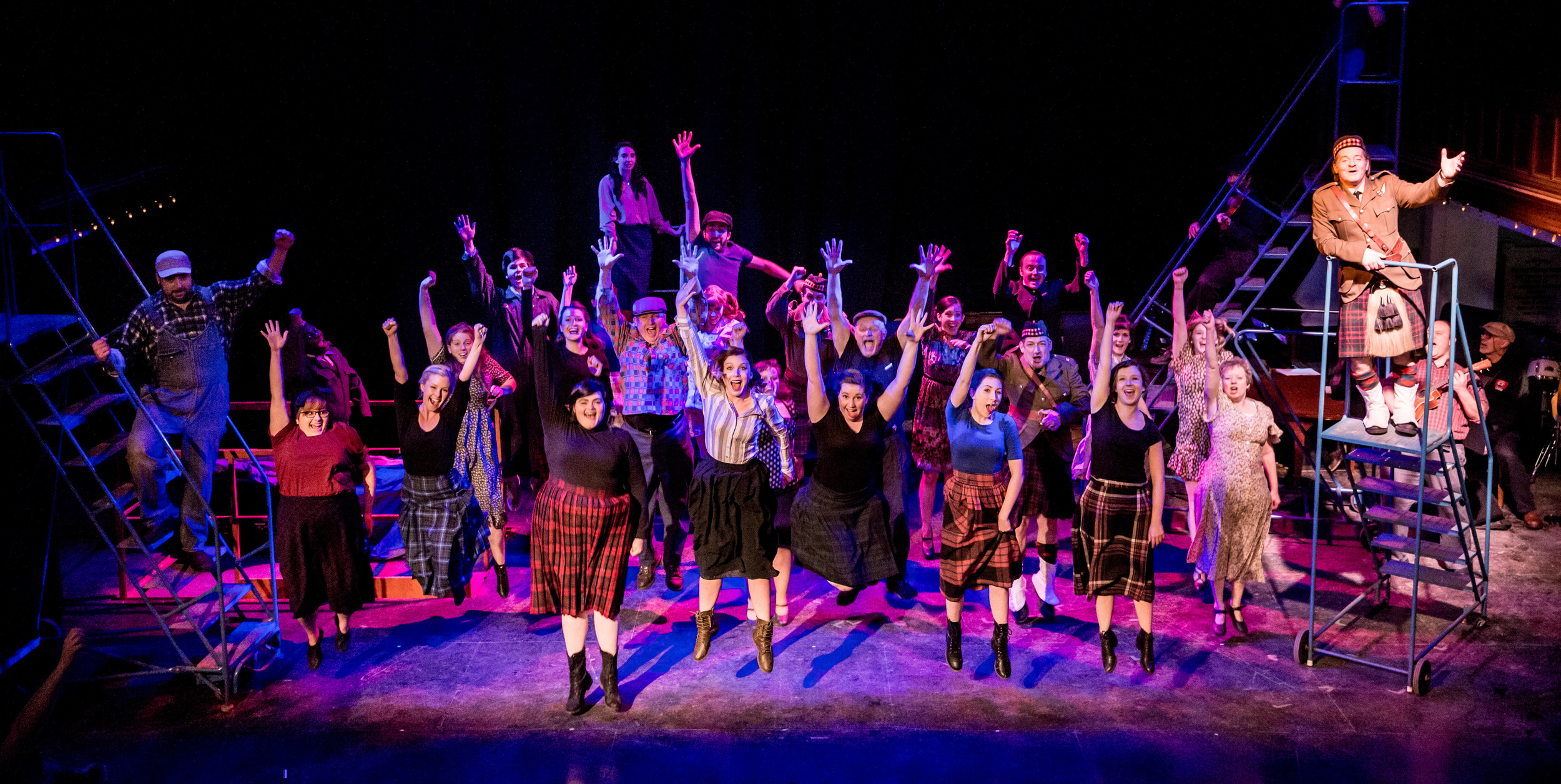 SUMMARY
For 50 years, the Sydney Steel Plant produced the finest steel in the world. But when War breaks out and the men are gone overseas, what will happen when women take change of the workplace for the first time?
TRAILER
highland arts theatre presents:
HEART OF STEEL
BOOK, MUSIC, & LYRICS BY Wesley J. Colford
DIRECTED BY Wesley J. Colford
MUSIC DIRECTED BYBarb Stetter
AMELIA Margaret MacPherson
JENNY Lesley McLean
MAUREEN Lisa Penny
EDIE Diana Furlong-MacKinnon
CHARLOTTE Zoe MacNeil
AMBERAnika MacKenzie
MOLLY Lily MacKenzie
JINKS O'TOOLE Sam White
MINISTER Matt Campbell
GEORGIE Maureen MacAdam
DOTTIE Hilary Scott
KAY Kristen Woodford
ETHEL Jennifer MacNeil
WALT Kevin Munroe
MACKIE Carl Stapleton
OLIVIER Ron Newcombe
LeMOINE Ross Hunter
TROY Paul Turner
COREY Cameron MacDonald
JAKE Eric Letcher
TALENT MC George MacKenzie
ARRANGEMENTS BY Barb Stetter
CHOREOGRAPHY BY Cynthia Vokey
Jennifer McNeil
ASSISTANT CHOREOGRAPHY Andrea Vokey
STAGE MANAGEMENT Mary-Jean Doyle
ASSISTANT STAGE MANAGER Jill Taylor
LIGHTING DESIGN Joe Pagnan
HEAD OF ELECTRICS Ken Heaton
SOUND TECHNICIAN Steven Wilton
HEAD OF WARDROBE Diana Furlong-MacKinnon
WARDROBE ASSISTANT Hilary Scott
DRAMATURGE Scott Sharplin
PROMOTION DESIGN Hilary Scott
PROMO PHOTOGRAPHY Chris Walzak
FRONT OF HOUSE Rachel Colford
EXECUTIVE PRODUCER Kevin Colford
STEEL WORKERS CHORUS Ross HunterBob InglisEric LetcherCameron MacDonaldGeorge MacKenzieDaniel MacKinnonChris MkandawireRon NewcombeCarl StapletonPaul TurnerCraig Varnes
DANCE ENSEMBLE Brandee CollinsSierra DicksonElizabeth DieltgensJacqueline EvelyBrittany EykingAlexis SmithAndrea VokeyCynthia Vokey
FEMALE ENSEMBLE Melanie LyleChrystal MacLeanJill Taylor
SYDNEY STEEL ORCHESTRA:
Clayton D'Orsay Mandolin Matt Earhart Fiddle Jim Guy Accordion Doug Johnson Guitar/Banjo Eric Letcher Recorder George MacKenzie Harmonica Alicia Penney Bass Pat Poirier Drums Barb Stetter Piano
SPECIAL THANKS
Suzanne Doane; Todd Hiscock & the Boardmore Playhouse; Chris Thomson & the McConnell Library; Kim Roper; CJBC; The Cape Breton Fudge Company; Governors Pub & Eatery; Wendy Bergfelt; Taylor Penny; Paul MacDougall; James FW; The families and loved ones of our amazing cast and crew!
The playwright wishes to acknowledge the support of Playwrights Atlantic Resource Centre (PARC) in the development of this script.