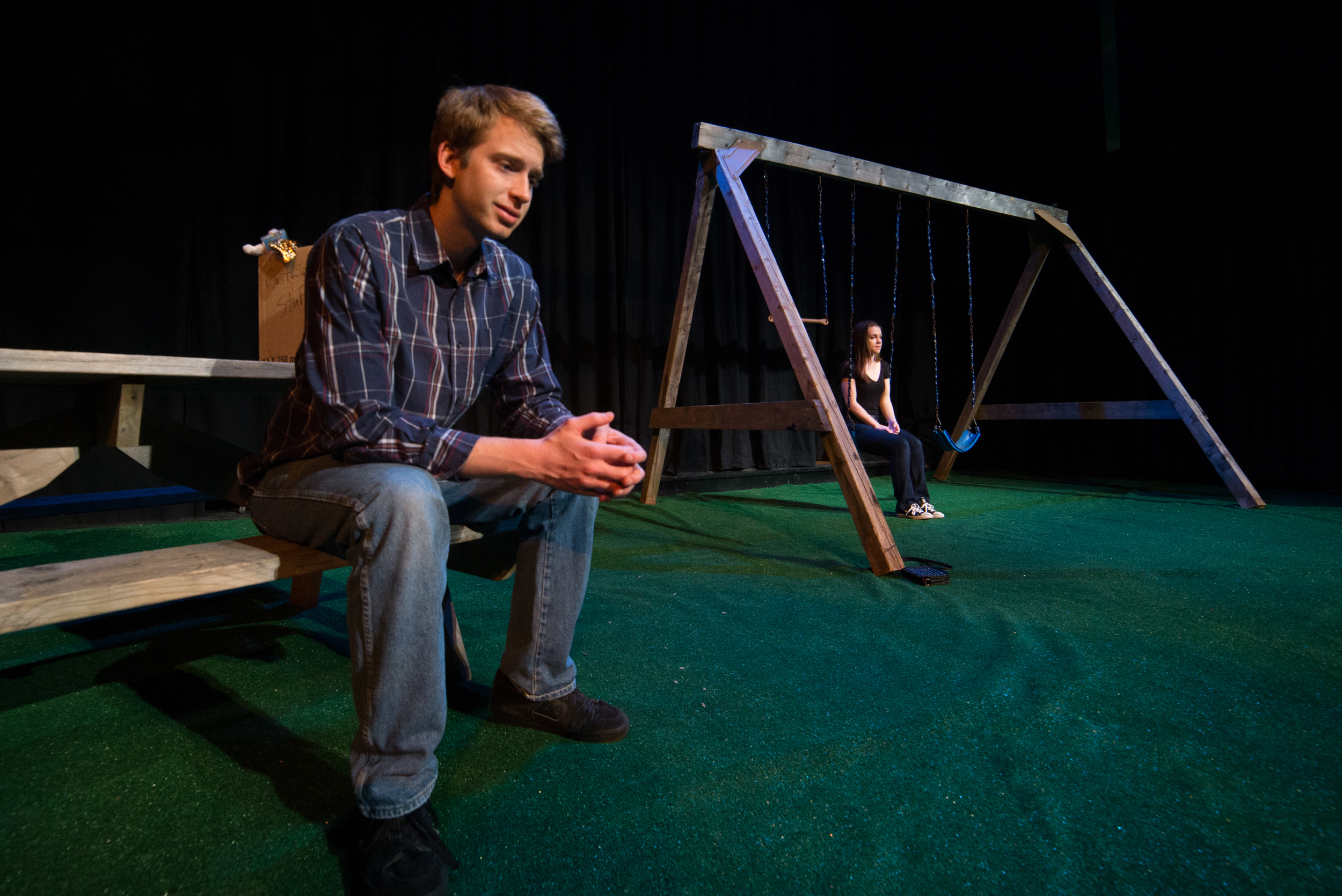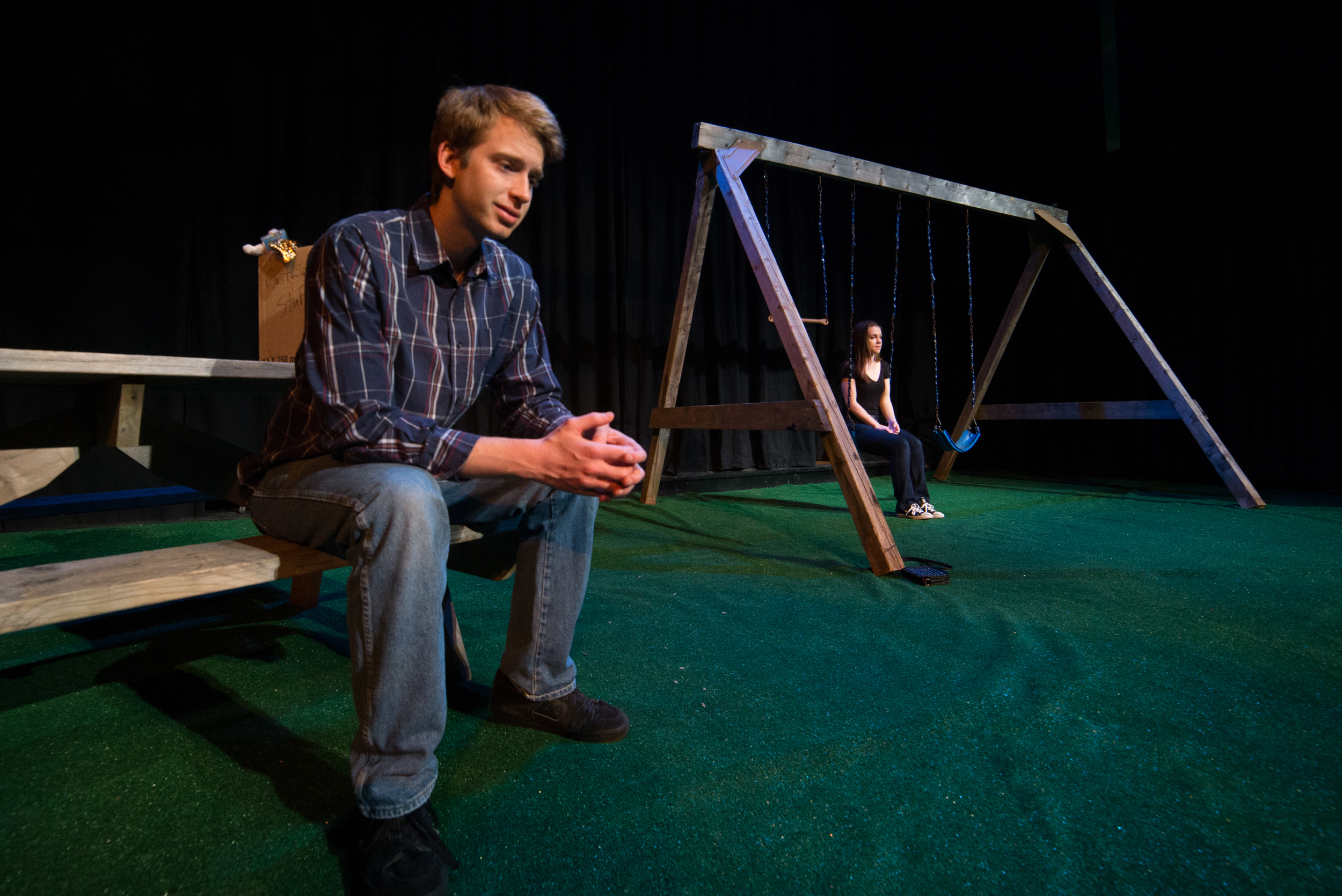 SUMMARY

Two teenagers meet at a park. One's from Sydney, one's from New Waterford. Their parents have forbidden them from dating, but they can remain friends as long as they "behave". A play for anyone who's been in love, or had their heart broken. For anyone who knows a teenager, or has been one.
DIRECTOR'S NOTES:
Mature Young Adults is about a relationship. More specifically, it's about the relationship between Caitlin and Jonathan, two "mature" young adults. It follows the beginning, middle, and end of their relationship, not necessarily in that order. The show follows the ups and the downs, the good and the bad and it makes us both love and hate the two young lovers we are presented with. The most powerful part of this play lives in its characters. Jonathan and Caitlyn are real people. They grow, they think, they feel, they adapt, they love. This play pulls you into the conversations, the situations, the emotions. This play pulls you in because you know its story. You know this story because you've probably lived it. Anyone who has ever been in a relationship knows this play. Some may know it better than others but anyone who has ever loved or thought they were in love can look at this story and see themselves reflected Caitlyn or Jonathan. You can place yourself in either of these character's shoes and remember your own relationships, your own loves, your own romance. You can laugh with these characters, cry with them, because your story, my story, their story is living and breathing on stage right before your eyes. Mature Young Adults is a play about a relationship. More specifically it is about young relationships, my relationships, your relationships, everyone's relationships. This play is for all of our past, present, and future significant others. It is for the people we stayed up late thinking about or hoped we'd get to talk to first thing in the morning. It's also for the people we never want to see again, the people we know we are better off for leaving, for moving on. This play is for you, and we thank you for it. Enjoy the show.
SPECIAL THANKS:
Donnie MacNeil, Two Rivers Wildlife Park, Joel Inglis, Matthew Burke, Caper Radio, Cathy & Art Spencer. Ida Rose Luther, Vaughn Harris, Kent Nolan, The families and loved ones of our amazing cast and crew!
highland arts theatre presents MATURE YOUNG ADULTS WRITTEN
BY Wesley J. Colford
DIRECTED BY Anna Spencer
CAITLIN MacDONALD Bhreagh MacNeil J
ONATHAN LAHEY Jonathan Lewis
STAGE MANAGER Ida Marie Steeves
ASSISTANT SM Rachael Murphy
LIGHTING DESIGN Eric Read
SOUND TECHNICIAN Steve Wilton
POSTER DESIGN Hilary Scott
PROMO PHOTOGRAPHY Chris Walzak
PRODUCER Wesley J. Colford
EXECUTIVE PRODUCER Kevin Colford
ACKNOWLEDGEMENTS: Mature Young Adults was developed with the assistance of the Paprika Festival and the Playwrights Atlantic Resource Centre and their 2013 Playwright's Colony. Special thanks to dramaturges Scott Sharplin, Mel Hague, Kim McCaw, and Alexander Offord. Mature Young Adults premiered November 20th, 2013 in Toronto, ON, produced by Aim for the Tangent Theatre and directed by Alexander Offord, featuring Renée Haché and Wesley J. Colford.